Introduction of Sports Psychology Seminar
運動心理學知多啲講座
What is the duty of frontline sports psychologist? What is the application of sports psychology in our sports participation and daily lives? If you want to know more about it, come and join the seminar! Details of the seminar are as follows:
Date: 17th November, 2017 (Friday)
Time: 1900-2030
Venue: Room 903, 9/F, Kimberly House, 25 Kimberly Road, Tsim Sha Tsui.
Fee: $120 (Before 20th Oct, 2017) / $150 (After 20th Oct, 2017)
Target: Sports coaches, athletes, teachers and parents
Application: Please kindly leave a message with your name, your email and your mobile phone number on our facebook page or email the information to info@hkssep.org. 
We are looking forward to see you soon in the seminar.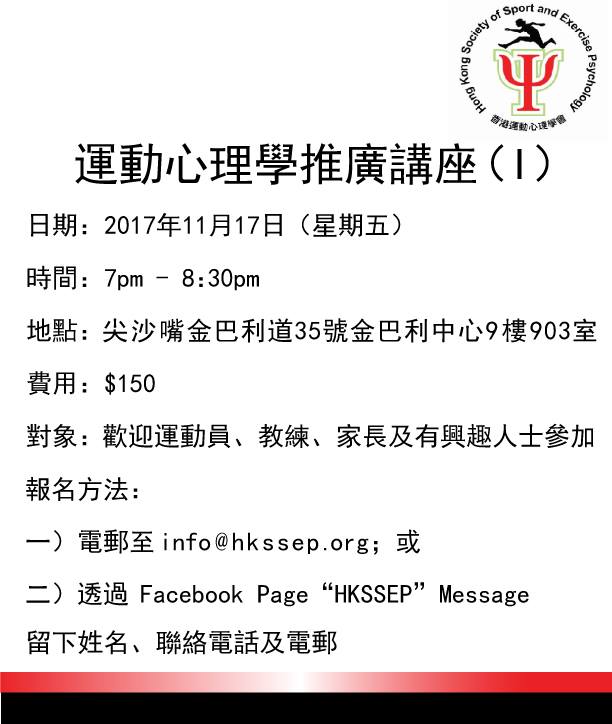 究竟前線運動心理學家的工作是怎樣的?運動心理學知識怎樣應用到運動、甚至日常生活裡?
有鑑於 SMART Fun Day 運動醫學日 因天氣受阻,我們決定將推廣期延至 20/10 (星期五) 。 
只要在 facebook 或電郵至 info@hkssep.org 報名,並於 20/10 11:59pm 入數至 HKSSEP戶口,即可以推廣價 HK$120 參加講座。
我們歡迎以團體名義報名,5位以上同樣可以以優惠價參加!
(講座適合所有對運動心理學有興趣人士、教練、運動愛好者、運動員參加。)